eLearning Trends for 2022: Metaverse is closer than you think!
E-learning has become a very popular topic these past couple of years, and it's not tough to see why. While many industries were ravaged by COVID, the edtech industry prevailed and experienced unprecedented growth and technological advancement. We saw a huge number of different products and ideas in such a short amount of time – it's exciting to think what the future of elearning might hold!
Companies, educational institutions, organizations, and even many individuals – all are increasingly choosing to adopt online education. Naturally, with such interest, the industry will keep coming up with new technological developments and concepts. So, let's take this opportunity to talk about our expectations for this year and what we believe the elearning trends for 2022 will be!
The Metaverse
The term "metaverse" represents an online, virtual reality network focused on social connection. It's a very broad term in the sense that it doesn't refer to any one specific kind of technology or use! The concept has had significant traction in the last few months since Facebook revealed their change of name to Meta and since the announcements of their own metaverse project.
Facebook envisions their metaverse as a newer, more immersive internet where people will use virtual and augmented reality devices to interact or engage in new online experiences and spaces. To give a specific example, Meta's new virtual reality social platform Horizon Worlds is a virtual space which users can access through a VR set. Individuals are represented with their avatars through which they communicate with other users, attend events, play games, etc.
But how does all this translate to elearning?
The classroom is a space like any other and can also be translated into the virtual world! Metaverse in education opens up a world of possibilities for learning and development. By creating an online space in which educators and learners can interact in real time, we can replicate the feeling of interactive learning while also incorporating a more immersive study approach!
By using virtual and augmented reality as well as other immersive technologies, students can learn faster, retain more information, and have a more hands-on learning experience. For example, school children can study biology through simulations of the human body, or history by virtually visiting places like Ancient Egypt or digitized museums. In fact, some schools such as The Optima Classical Academy (a charter school in Florida in the US) or the Metaverse School are already offering a metaverse educational experience.
Metaverse in the business sector
The use cases for the metaverse aren't limited to educational integration – businesses can also use the metaverse to train employees by immersing them in realistic simulations. Thus, employees would be able to practice new skills and technical procedures in an entirely risk-free environment!
This kind of training is getting more and more attractive for employers, given the current global pandemic which has seen a large number of the workforce shifting to home office. Additionally, the amount of people choosing to work online is growing exponentially, thus opening up the global talent pool for businesses. A metaverse training environment is ideal for recruits who could be halfway across the world!
Microlearning
Remember sitting for hours with your nose buried inside your textbook, but not actually remembering much of it later on? How is anyone supposed to retain so much information in one sitting?! Besides, neither school children nor adults can effectively focus their attention for so long and for so hard on one single thing! This is where the concept of microlearning comes in – bite-sized content intended to facilitate knowledge consumption and retention.
Educational facilities who understand this will start implementing microlearning practices in their teaching. For 2022 we foresee shorter learning videos, mini tutoring sessions, and more frequent check-ins. After all, quality over quantity, right?
Corporate microlearning is the next big thing!
There is an even bigger argument for implementing microlearning in the corporate environment. Employees generally have a pretty busy workday and don't have too much time to dedicate to in-depth professional development. In fact, gaining new skills on top of working full-time can be incredibly stressful! On the other hand, foregoing additional training is a non-option for many if they want to get ahead in their career.
By using microlearning, employees only need to take a few minutes of time out of their workday and go through small, focused, and individually-tailored assignments. What's great about it is that the learning material can be accessed on any device and at any time that suits the employee best! Furthermore, microlearning has shown to maximize productivity and improve performance, making it a win-win for both the employer and the employee!
The final case we have to make is that – creating microlearning content and publishing it is just so easy! It's cost-effective and its performance can be easily tracked, making adjustments much easier to execute! That's why we have no doubts that microlearning will be a big part of the elearning trends for 2022.
Learning analytics
Everything today is about big data and analytics – and edtech is no exception. The more information we have, the better the insights which drive the changes. Data analytics and data visualization techniques are already being used in every field conceivable with the aim of more efficient and higher quality decision-making. In that way, the edtech trends too go where the data analysis takes them! And where is that?
Administrators can track data such as:
Course completion rates and course popularity
Learner progress, strengths, and weaknesses
Surveys and other feedback forms
Learner engagement
Subsequently, companies or schools can then use this kind of information to create customized learning paths for individual students and trainees! Personalized learning has proven to be one of the greatest benefits of edtech, and we have already seen how data analysis has been a big driver behind it. In 2022 we will see an even larger dependence on big data analytics in the edtech sector!
Artificial Intelligence
We've already talked about how Artificial Intelligence is already impacting the edtech sector, as well as the benefits and challenges associated with it. As mentioned, we have barely scratched the surface of what is possible versus what is currently the state of the art of AI in education. But this just means that research will keep going into edtech AI development, and we are absolutely going to be seeing new tech as well as increased implementation of AI in elearning in 2022!
The biggest advantage AI can offer is – again – personalized education. In combination with data analysis, AI and machine learning tools can analyze information about learners strengths, weaknesses, proficiency, and interests. Subsequently, AI can design courses specifically tailored to learners' needs and levels, making learning more fun and effective. We are also seeing more and more sophisticated AI tutors, which in addition to answering questions, can also direct learners to resources or suggest content based on the individual's progress!
Yet another use for AI is in creating intelligent assistants and voice-enabled bots to simplify content search or receive suggestions about learning events, online courses, or webinars. This application is relatively simple to implement and use, and will be increasingly used by corporations and educational institutions in 2022.
Gamification
Games are addictive, as we all very well know. Years ago, edtech researchers found a way to combine this fun activity with learning – and thus gamification was born! Since then, the concept has grown into a phenomenon! Game-based learning is massively popular – according to reports, the gamification industry will exceed 32 billion US dollars by 2025!
Gamification in the context of learning simply means making educational activities more like games in order to make studying more interesting and captivating. Users can engage in friendly competitions with classmates or coworkers, and can even earn points, badges, and rewards! This edtech trend has been proven to make it easier for learners to acquire and practice new skills and knowledge and hence improve training outcomes, increase motivation, and help with knowledge retention.
Based on the upward trajectory gamification has taken since its nascence, you can be sure that it's not a passing fad. Organizations will definitely be spending more and more on creating a gamified learning experience for their learners in 2022!
Elearning trends 2022 – A Recap
Elearning IS the future of education, there's no doubt about that! Just think about all the ways the technologies mentioned have already had an impact on our lives! As technology evolves and becomes more sophisticated and accessible, we will see ever more engaging, personalized, and effective edtech products. All the elearning trends for 2022 discussed here – the metaverse, microlearning, big data, AI, gamification – are here to stay in the long run. If you or your organization want to get with the times – do it now. Online learning is evolving quicker than ever, and you don't want to be left behind!
Our in-house developers have lots of experience developing elearning products for our clients, and we are deeply passionate about the subject! Contact Redvike today if you need help designing your own edtech app or software product!
A good app doesn't necessarily have to have a great design, nor does good design indicate that an app is superior. However, it's true that a great app in combination with a fantastic design is most likely a winner. This is also true for elearning apps, which cover a vast variety of different topics and fields. Therefore, it's crucial that you invest sufficient time and money into your education app design. But, what actually indicates good elearning design?
On the one hand we have the user interface, or UI, which refers to the overall look of the app. On the other, we have the user experience, or UX, which relates to the actual usability and functionality of the app. If you get the UI and UX right, your chances of success skyrocket. Alas, easier said than done. With this article, we're going to detail the best elearning design practices, so that you can recognize the things you need to improve on.
User-oriented elearning design
Upon starting app development, one of the very first things you will do is research the market, thus determining your target audience, i.e. your potential users. Knowing what your customer base likes and dislikes in similar existing apps will help tremendously in the initial stages of the elearning design process. For example, here at Redvike we use the Agile development methodology, which utilizes so-called "user stories" – which help figure out the app functionalities from the point of view of the user. If you'd like to know more about how to construct user stories, you can check out our article on the topic.
So, what are some of the best elearning design practices that will keep users engaged with your app?
Personalized learning
Learners today want individualized study content, suited to their own level and goals. For instance, by adding a survey or test before starting to use the app, you can assess the user's interests and proficiency. Thus, you can either set the user on a suitable learning track based on the pre-assessment, or you can let the user choose their own path, perhaps offering adequate recommendations. Additionally, allowing for choices between text, audio, and video is another way in which you can offer a more personalized elearning experience.
Immersive experiences
Immersive elearning design creates dynamic and stimulating environments for learners, allowing for more meaningful and engaging learning experiences. The idea is to design a whole experience, not just content. By learning through experience, users are able to retain much more information, and will be motivated to keep coming back for more! Some examples of immersive elearning technologies are:
360 degree videos
Virtual Reality Technology
Augmented Reality Technology
Gamification
Haptic Technology
Speech Interfaces and Gesture Recognition
Progress Indicators
Another important factor in elearning design is feedback. By using progress and performance indicators throughout the course of the learning path, users get more motivated and confident in their abilities. For example, by setting up different levels and indicating how long is needed for each level to be completed, users are kept interested and focused. When reaching the end of an arbitrary level, users feel a sense of satisfaction and accomplishment which encourages them to keep using the app.
Visual experience and minimalism
We humans are visual creatures, and we respond well to attractive visual representation. Using various colors, images, graphics, animations, and video appeals to users, especially to a younger audience (which is why knowing who your potential consumer base is essential). However, it's also important not to oversaturate or overcomplicate the app, which can lead to cognitive load. It's best to adopt a minimalistic approach by:
Implementing fewer features,
Being consistent with the overall theme,
Simplifying slides/pages, removing unnecessary information and graphics,
Making course navigation clear and accessible,
Using colors effectively,
Breaking up the text so it doesn't fill the whole screen.
Microlearning
Microlearning is a concept which evolved from the need for short bursts of content meant for those with limited time or attention span, which, let's be honest, describes most of us these days. By using smaller content chunks like short video or audio sequences, flashcards, images, or even games, users find microlearning more engaging and time-effective, but also help them retain information more efficiently! This approach also benefits developers because they are able to create microlearning platforms much faster, which therefore makes them much cheaper to make. So, by spending a relatively small amount of money, you can quickly bring the product to market and start monetizing. Finally, while it's not suited for in-depth training or complex topics, it can give a basic overview of pretty much any subject.
Don't forget the teachers and educators
It's not only the learners who use elearning apps and platforms. Teachers everywhere have been forced to move from traditional teaching tools present in the classroom to digital platforms. In many cases these elearning platforms are completely new to them or they are simply not used to using in an educational context. Furthermore, they as educators in close communication with students can offer unique insight into the teaching process and offer ideas for useful details which could easily be overlooked by a designer or developer. Their feedback and opinions are essential – read more in our article discussing challenges of edtech development.
Final words
As you can see, elearning design requires knowledge and finesse, and the outcome can vary considerably depending on the specific educational topic and purpose. Designers can sometimes get fixated on an idea which can actually hurt the usability of the app. On the other hand, developers by themselves can't be solely relied upon to create both a great elearning UI and UX. This is why designers should actively work with developers who have design skills and technical expertise in elearning app development respectively. The team should include researchers and marketing experts who will analyze comments from both learners and educators, which will end up defining the final features of the elearning design.
If you get stuck anywhere, don't hesitate to contact Redvike. We have the team and tools necessary to bring your idea to life.
The global education technology market was valued at a whopping USD 89.49 billion in 2020! It is predicted to grow at an annual rate of almost 20% from 2021 to 2028! We can expect more advanced technologies, more edtech companies, and apps, as well as more widespread use of digital learning platforms all around the world. The ideas are there, the investors are there, and the audience is waiting. The time to get into Edtech is now!
Perhaps you already have a great idea and are looking to develop it, but it just seems too daunting and undoable. You may think that the competition is just too large and you won't get noticed, or that you don't have anything new to bring to the table. In fact, it's quite the opposite. The edtech market is not even close to being saturated, and there are plenty of opportunities to be explored. So if you've decided to put your doubts aside for a while and are looking for the answer to – "How to start an Edtech startup?" – then keep on reading!
How to start an Edtech startup?
Before starting any sort of development, you need to be absolutely clear on the purpose of your idea – i.e. what problem does it solve? I know this might seem like a redundant question – of course you know the purpose of your idea! But it's really not so simple. Your solution will determine your niche, which will in turn help determine your entire edtech startup business model. The development process can only start once the purpose has been unambiguously detailed. So, what can you do that can help you better establish your niche?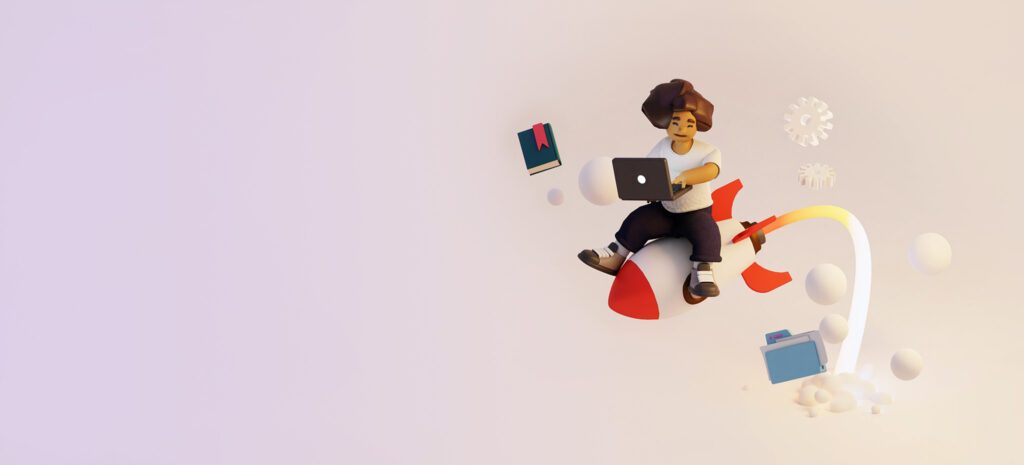 Market Research
Market research is incredibly important, especially for a startup. First of all, you need to know what the market has to offer, what kind of products exist, and which are popular. Doing this you can find out if you have a potential audience. Next, you need to check out your direct and indirect competitors. This will help find a way to stand out from your competition, or improve features users feel are lacking in existing products. Finally, all this information gathered from the market research will aid you in determining your own marketing strategy!
Define the roles in your startup
The next important step is building your team. Who will be your co-founders and what will their roles be? What will your role be as founder? If you have a small team, you and your team members will probably be taking on multiple roles and responsibilities. Therefore, it's important that everyone knows what they are supposed to do and do it well. Otherwise, inefficiency will cause delays and mistakes which can spell disaster for your product. It's also important to decide who will actually be doing the product development – an in-house development team, or will you outsource to a dedicated software house?
Edtech Startup Funding
Probably the most challenging topic for any edtech startup – how to get funding?
Bootstrapping
Bootstrapping your startup means funding your business with little to no outside funding. This means relying on your own savings and business-generated cash flow. It's a risky, but doable option. By using your own money, you remain the sole business owner and are free to choose the direction of your company. Things will get tricky though if funding runs out, or there is not enough capital for growing and scaling the company.
Financial Loans
Most banks will loan you the money you need for your startup. The good thing is – the bank doesn't have any say in your business, and paying monthly installments is pretty straightforward. The bad thing is that you are obligated to pay back that money regardless of the success or failure of your company and be prepared to deal with the consequences in case of a default.
Grants and sponsorships
Many government and educational institutions, as well as private companies, offer edtech startup grants – either as one-time payments or monthly installments. These are great options because startups are generally not required to pay that money back. They do, however, need to fulfill certain prerequisites and requirements in order to get the money or meet certain deadlines in order to continue receiving funding.
Investors
Investors are usually experienced business experts who provide funding in exchange for a percentage in your company. While that means relinquishing some creative control and ownership of your business, investors bring with them priceless qualities like mentorship and business contacts.
Crowdfunding
Crowdfunding has become more popular than investments in the last few years, and it's easy to see why. It means gathering small amounts of money from a large number of people in exchange for a gift or non-monetary premium once the product is launched. While you will need to have some sort of marketing plan already in operation to get people acquainted and interested in your idea, it can bring in a large sum within a month!
MVP Beta testing
Launching an MVP lets you test your idea while investing a much smaller amount of money than that needed to develop the full product. By having real users test your product you will get invaluable feedback regarding features, likes and dislikes, and potential bugs in the system. It's worth noting here that many successful (edtech) startups have outsourced their MVP development. While it may seem counterintuitive, it's actually a cheaper option than doing it in-house, and you will have access to experts in the field of edtech software development.
Marketing plan
Marketing should be a part of your investment plan – no ifs, and, or buts. It shouldn't be something you do as an afterthought, or just for name's sake. A well thought out marketing strategy is absolutely crucial for the success of your edtech product. You can create a great product, but if it doesn't attract and retain an audience, then ultimately it will be counted as a failure.
Mistakes to avoid
While elearning is becoming more relevant and the edtech market is crazy competitive, this just means that there are many more challenges. Some of the most common reasons for failed edtech startups are:
Fundamental incomprehension of the educational system
Complicated or ineffective edtech product
Lack of market research
Lack of monetization
Not measuring KPIs
Poorly chosen team members
If you'd like to read more about the challenges of edtech development today, read our blog post on the topic. If you are still unsure where to start and you need professional consultation for starting your edtech startup, don't hesitate to contact us here at Redvike.
As we learn a new language, practice our design skills, or as a teacher, we give an online lecture to our students, we should know that behind the tool we have in our hands is a group of smart people who have worked together to make the experience so engaging and convenient. Educational technology makes learning easier, more accessible, and fun. Its potential is still growing as can be seen from the number of EdTech startups located around the world.
The opportunity to innovate and streamline the learning process was also noticed by many investors who started pouring money into the EdTech industry. As of 15 April 2021, there are now 22 EdTech Unicorns around the world with the power to create a new way of acquiring knowledge. All of the companies together raised over $14+ billion of total funding in the last decade!
And the list of innovators doesn't stop there. There are plenty of startups with the potential to be the next unicorn. Each covers a different area of education, trying to solve not only the problems of students but also tutors. Let's have a look at some of the most promising solutions!

EdTech Startups to follow in 2021
With so many companies across the world now focusing on the idea of digital technology in education, the number of innovators we could write about continues to increase. However, somehow we managed to pick the big five. Here they are!
Blackboard
A leader among all the Edtech startups is for sure, Blackboard. A company with a mission to ensure tutors around the world have access to quality education. The startup offers a variety of online platforms and tools including Blackboard Collaborate, Blackboard Connect, and Blackboard Learn. The last one is an advanced LMS that supports the pedagogical approach of teachers and makes their organization of courses superior!
We connect a deep understanding of education with the power of technology to continuously push the boundaries of learning. – Blackboard team
Perlego
Next on our list is Perlego – a London-based startup that provides a subscription service for academic (and not only) texts. By working with the best educational publishers such as Pearson, Cengage, Princeton University Press, and Wiley, the company provides affordable access to over 400,000 textbooks, while charging students only 12 pounds! Given the global shift to online learning, having such a rich online library is sure to make life easier for many students.
Perlego was recently named as one of Britain's fastest-growing startups. In August 2020 they won the EdTechXGlobal Startup Award!
Astrid
Among all the EdTech startups, this one is a great example of how today's technology changes the reality of learning. Astrid is a Swedish company offering voice-based reading lessons, powered by Artificial Intelligence. Their platform is equipped with speech recognition that combined with engaging storytelling, helps kids all over the world become fluent in English.
Astrid represents a new way of teaching that makes learning fun and doesn't require supervision. Kids can learn English at their own pace while the platform adapts to their learning style and offers a personalized experience. The solution is currently available to users in Sweden, the UK, and the US.
CreativeLive
CreativeLive is a platform for all the designers and creators who wish to expand their skills and have a space to showcase their work to global creative companies. The startup introduces a new approach in the EdTech sector that combines education with actual practical experience that people can gain through sharing their portfolio with major companies with open positions.
Creative Live offers a number of different videos and classes on photography, design, drawing and many other creative activities. They have partnered with some of the largest creative companies such as Adobe, Miscrosoft or Go Pro. It's a startup that not only provides a platform for sharing knowledge, but also a place where creators can work to build skills desired in the job market!
Dreambox Learning
We close our list with Dreambox Learning, a startup that focuses on elementary mathematics education. The company that pioneered Intelligent Adaptive Learning technology offers a platform with an online math program for kids to boost their problem-solving abilities.
"DreamBox was founded with the mission to transform the way the world learns by using intelligent adaptive technology to dynamically and continuously personalize each student's learning experience," Jessie Woolley-Wilson, CEO of DreamBox.
The startup's adaptive engine is able to adjust to a student's way of thinking to build a personalized learning path for them. The Rise Fund, a global impact investing fund, invested US$130m in DreamBox Learning, which is today used by nearly 3 million students and 120,000 teachers in every state in the U.S.!
Summing up
Every day the startup scene fills up with new innovations in the field of education. The tools are equipped with more and more advanced technology that makes us learn faster and makes our learning process is pure pleasure for us. The EdTech startups are also getting more advanced and with the funds from investors will continue to level up our learning experience.
What is important is to build these products with support from a reliable and experienced tech partner. If you wish to build software that is user-focused and provides an immersive learning experience, you can count on the Redvike team 😉
We know that not everyone learns in the same way, and there is not a single correct way of learning. However, the standard educational system is quite rigid in this regard, most often unimaginative and unaccommodating to different learning capabilities. This has enormous consequences for children who are not able to follow or adjust to the typical teaching methods, resulting in poorer academic performance and loss of confidence. This in turn can have huge repercussions on the student's subsequent academic, professional, and personal life.
AI – or "Artificial Intelligence" – has transformed every single industry and technology, including education and learning. Today – using AI in education – it's possible for students to choose how they want to learn. Even more critical, it's possible for AI tools to analyze a student's performance and habits based on which they can understand students' learning needs and preferences. This allows for the creation of learning environments with a high degree of personalization.
But how utilized is this power that AI possesses? What is the current state-of-art in edtech AI?
Advantages of AI in Education
Educational AI tools have become indispensable, as they are increasingly being used in the classroom, at home, or in the office. Let's check out some of the characteristics which make AI in education so relevant.
Accessibility
Students are instantly connected to learning materials, courses, even teachers, from anywhere and at any time. Students can choose their own study times, and set their own pace. Teachers can be replaced by digital AI assistants, who are available 24/7 for clearing students' doubts. This accessibility also makes it easier for working people to pursue further education, for whom flexibility is integral. Another group of people who can benefit immensely from unlimited accessibility are disabled persons.
Personalization
As mentioned before, the traditional classroom doesn't work for everyone. The teacher often doesn't have time to give vital feedback to everyone or to work individually with all students to identify their weak spots. This can lead to frustration in underperforming students, teachers, and parents alike – but more often than not, it is not the student's fault. For example, learning disabilities like dyslexia, ADHD, or dyscalculia are incredibly common and unfortunately often un-diagnosed. By analyzing student's performances, AI can help in recognizing these disabilities sooner, and assist in creating personalized study plans and learning methods that are easier and more suitable for those students.
Engagement
Personalized AI, while simplifying the learning process and making it more interesting and interactable (for example, through visual or auditory learning methods), naturally also leads to higher engagement by the students. One-on-one student-AI interactions can also be much easier for students who don't feel as confident or experience anxiety in the classroom. Such students would probably feel much more comfortable voicing their quandaries in a pressure-free environment, thus encouraging more engagement. 
Edtech AI in 2021
How can AI be used in education? The possibilities are endless, but in reality, we've barely scratched the surface. There is a big gap between what can be done with AI, and what we are currently able to do. Let's explore some examples of how AI is currently being used in education.
Online Courses
We're all familiar with the eLearning game-changers – online course giants like Udemy, Coursera, Udacity, and others. These eLearning platforms have also started utilizing AI to help connect students with the right courses for them, based on data like the student's current and past education, learning and topic preferences, future plans, etc.
Administration Automation
In the classroom, there are AI tools that help teachers by grading tests, and checking homework and essays, thereby freeing up teachers to interact more with the students. Outside of the classroom, AI is tasked with other administrative assignments such as: filling out paperwork, collecting and maintaining student information, noting attendance, managing teacher materials, and many more such tedious tasks, saving time and money for the educational institutions.
Speech Recognition Software
These types of software have enhanced word recognition and spelling abilities, especially beneficial for students who struggle with writing or have limited mobility/visual impairment. Teachers also gain precious time, being able to dictate lessons for later use.
Smart Content
The term refers to different types of digital content, such as textbooks or video lectures. AI software can create customized learning interfaces and content based on a specific student's needs, while also making it easier for students by appropriately sectioning the content, highlighting key points, creating audio and video content, and more. These tools make things easier for the teachers as well, allowing them to sort all required content in one place, facilitating access and content updates.
Personalized Education
The goal is to create individual study programs using AI and machine learning as per the specific needs of each student. By identifying weak points and employing alternative methods of instruction, we should see an overall improvement in student performance. Carnegie Learning is one such popular platform that uses AI to assess student's habits and generates customized feedback to students and teachers, based on which the study plan can be adjusted.
The Future of AI in Education
While technology is continuously developing, we can expect incremental improvements to all areas mentioned throughout this post. However, this does not mean that AI is set to completely remove the teacher from the picture, at least not anywhere in the near future. For the time being AI tools are just that – tools. How they are implemented matters. In that sense, teachers should be trained on how to apply AI educational tools in a meaningful pedagogical manner. On the other hand, a teacher's experience of working with students is irreplaceable, thus teacher feedback is also important for designing the AI tools.
The biggest challenge for AI in Education will be strengthening the cooperation between teacher and machine, and then taking it to a global level. Right now, a small number of students have the privilege to be assisted by AI in their academic lives, or it is not to any consequential extent. The goal is to give students everywhere the chance for quality education taking into account their individuality, which is what AI aims for.
EdTech developers provide solutions that offer tremendous opportunities for the education industry. Using today's technology they are able to create an immersive learning experience in a compact form of an application. Some of the products are amazing in helping people to expand or improve their skills. They can track students' performance and motivate them to be better in their field. Part of the success is a product strategy and great UX design but what's taking the lead in educational apps is, of course, technology.
Without the good back-end and front-end technology, an app wouldn't be able to provide the users with expected performance. Without all the modern tricks such as gamification or voice recognition, it just wouldn't be an app from this age. That's why it's important to choose the right technology for your EdTech solution. At the heart of Redvike lays all of the React family. That's why today we're going to focus on some of the best educational apps built with the use of the JavaScript library – React.js.
The age of remote learning
It's not just about school education. There is a clear trend towards learning through educational content shared on the most popular social channels. A good example is what's happening on TikTok – the fastest growing social media app for creating, sharing, and discovering short videos. In May 2020 TikTok has announced its plans to encourage its community to self-educate by launching a new #LearnOnTikTok platform. The plans include collaboration with experts from various institutions who will be responsible for creating educational content.
With the Internet availability, the increase in smartphone use, and the growing popularity of social media, eLearning has the best conditions to finally be recognized and developed on a big scale. However, if we want to deliver useful content that inspires, and drives engagement, we should base our product on modern and reliable technology.
What educational apps are built with the help of React.js
It turns out that behind some of the best eLearning platforms there is a well-chosen tech stack – including React.js, that holds it all together. Here are five great educational apps we've picked that use the power of the JavaScript library.
Khan Academy
It's an American, non-profit EdTech organization established in 2006 by Sal Khan that produces educational content for students and educators. Their online platform is filled with short videos, supplementary materials, and useful tools to enhance the learning experience.
Khan Academy underwent a major upgrade to React.js which provided the platform with smooth element changing and the elimination of unnecessary re-renders. What's more, in July of 2020 the platform finished a complete migration to React Native. The reason for that was the challenges of maintaining two codebases with a small mobile team. By making a switch from Backbone to React technology the organization is able to introduce changes to their app in a more efficient way, eliminating the number of errors and cutting the time of development.
Skillshare
Skillshare is an online learning community sharing thousands of inspiring classes on topics including illustration, design, photography, video, freelancing, and more. The company was
founded in 2010 and has its HQ in New York. This type of on-demand learning has recently gained a lot of recognition in the US thanks to the personalized approach and the spectrum of available classes.
Skillshare offers incredibly engaging content that attracts the right audience. The EdTech platform was built with the use of React.js which supports the smooth interaction of UI elements and the creation of a user interface that enhances learning.
Sana Labs
Sana Labs is a global leader in the development and application of AI to learning. One of their core products helps users improve pronunciation when learning a new language. Their all-in-one learning platform has a built-in AI mechanism and analytics that tracks the user's performance – it was developed in a collaboration with our Redvike team.
We built a responsive React.js app using Sana's eLearning API, to provide the company with a showcase of their technology and highlight the power of their solution. The React.js product has become a vital sales and marketing tool for Sana. The company also won a CogX award for the Best AI Product in Education.
Duolingo
Who doesn't know Duolingo? Duolingo operates as an augmented reality app embedded with a multilingual chatbot, to improve speech recognition capabilities. The language learning app appeared in the market in 2011 and in just two years earned the title of iPhone App of the Year. Certainly, it's one of the most popular educational apps and also the one built with the use of React.js.
The frontend of Duolingo was written in Backbone.js and Mustache but is now primarily in React and Redux. The use of Javascript library enable the app to capture the attention of users with its highly responsive UI components, transitions and navigation that guarantee remarkable user experience.
Codeacademy
Lastly, an American educational app offering free coding classes in 12 different programming languages including Python, Javascript and Java. As a web app designed specifically for developers wanting to learn or improve their coding skills is a great position in the Edtech app category.
In August 2014, Codecademy decided to fully incorporate Facebook's library, and till this day React.js is one of the key scripts included in the app. The company's team admits that there are a few things they appreaciate the most in React.js. They include the battle-tested script, compatibility with legacy code, flexibility and the way it cooperates with SEO. 
Summing up
React.js is widely applied in the EdTech industry. It supports the user experience in most advanced and popular educational apps in the market. Its features were recognized by global leaders and innovators not only in the field of eLearning but also by pioneers in AI technology.
One of the reasons is for sure the performance it provides. Above all, it's reliable and supported by a tech giant – Facebook, technology that when incorporated into your digital product, saves a lot of in-house resources while attracting more users to your app.
Today, as the world is still fighting the COVID pandemic, e-learning is more relevant than ever. As of January 2021, almost 60% of the world population has access to the internet through their mobiles or computers, and therefore access to any of the hundreds of educational platforms and apps out there. The educational technology (Edtech) industry is booming and the competition is fierce, making edtech app development even more challenging. What are some of the Edtech challenges startups and companies face while developing their products?
Edtech – Tradition vs. New-age learning
Let us first define – What is Edtech? Edtech – or, Education Technology – refers to the practice of introducing or developing technological tools for the purpose of education. This can mean anything from simply digitizing textbooks, online courses on any imaginable topic, helping students and teachers navigate the online classroom, to personalized Edtech apps and platforms suited to the user's needs. Edtech offers numerous advantages compared to traditional learning methods, such as:
Flexibility
Whether it is choosing their own time for studying or choosing the way they wish to learn things (e.g. textual vs. audio-visual), students have the luxury of choice which is not present in the traditional classroom.
Cost Savings Potential
Edtech products only require you to have a laptop or a phone and access to the internet. No more need for physical space or out-of-date textbooks. No need to move to a different city to attend university when you can attend classes online. The COVID pandemic has at least taught us that this is a perfectly viable option for off-site students.
Access to Education
Students are no longer limited by the choice of educational institutions in their vicinity. They no longer need to comb through books to get an answer to a simple question. Information is just a click away!
Edtech Challenges
An overview of the edtech industry would show that we've barely scratched the surface on what Edtech is capable of doing and the full plethora of advantages it offers. However, creating an app that works well but also monetizes is not a simple undertaking. Let's take a look at some of the challenges faced by Edtech app developers.
Lack of Teacher Input
A lot of the educational apps and platforms are created to either replace the teacher or to help the teacher deliver the lessons through a digital medium. Unfortunately, many developers will not collaborate with teachers or use their feedback while developing their app. This results in distrust and eventually no interest by educational institutions and teachers in incorporating the new technology, leading to a failed product. Edtech products should be made in such a way that teachers are not confused and constantly trying to decipher how they work, because ultimately, they are supposed to make their job easier and allow them to actually focus their time on the students and their needs.
UX/UI
While there is space for creativity and innovation in the edtech industry, if you add on too many features and confuse your users – it won't matter how new and original your app is. It's also important to know exactly who your target audience is and design with them in mind. For example, if the app is aimed at children, it should be easy to understand and navigate, but also fun and playful. Striking that balance is, of course, not easy. That's why edtech app testing is crucial in determining the success or failure of the app design.
User Engagement
In the starting months of the COVID pandemic last year, a lot of people had so much time on their hands they suddenly had to fill somehow. Many decided they wanted to use that time productively, like – by learning a new language, or starting that programming course they always wanted to do, taking up a musical instrument etc. So they download an app and, starting out, they're usually super motivated and committed, and user engagement is high. However, soon the initial excitement and curiosity fades and motivation dissipates, and user engagement drops. Concepts like "gamification" are used by professional edtech development teams to create apps which maximise user engagement and retention.
Monetization
Monetizing edtech apps has proven to be extremely difficult, even for the best edtech apps like Duolingo. You can make a fun, great learning app, but not everyone will want to pay for it. Finding initial investors for Edtech development also has its challenges. Since this is not the type of product which can show immediate results or one whose educational value can be easily and quickly measured, investors are reluctant to put their money into Edtech professional development. It's important to find the right way for users to pay for your EdTech services and make them feel like their money has been well spent.
The Future of Edtech
While the edtech approach to learning still has its disadvantages, technological developments and innovation will undoubtedly continue to improve many aspects of Edtech products, making them even more accessible, immersive, and relevant. New technologies will also pose new challenges for Edtech app development, bringing about new and innovative solutions. Ultimately, those who manage to find ways to improve education quality, reduce costs, and make a meaningful impact will prove to be the most successful players in the Edtech industry.