How to Become a Great Business Analyst
A business analyst's job is to evaluate a business's processes and systems, understand how those evolve over time, and present technological solutions to improve the organization. To do this, business analyst's need to possess knowledge of both the specific business as well as the industry trends and practices. A key role of a business analyst is to communicate plans between the company teams and the external stakeholders. In this way, a business analyst is frequently considered the link between the business and IT departments.
In essence, business analysts are the people who provide the insights that drive change in a company. That change can be of a higher magnitude, such as large scale organizational or policy changes. However, the changes can also be more narrow and focus on relatively smaller advancements such as finding opportunities for cutting costs. Whatever the scope of the change, they should help increase efficiency, productivity, and profitability, as well as help the company find further opportunities for growth.
What does a business analyst do?
A business analyst needs to possess both soft skills and hard skills. For one, they must have an analytical thinking and problem-solving mindset! it is not a cookie-cutter job as each project needs a different approach and a different solution. It's not just about how much you know, but how well you can implement and use what you know. The job requires a nuanced and resourceful approach to work through challenging situations. On the other hand, people skills matter just as much – a large chunk of an analyst's time is spent gathering and delivering information to and from all the stakeholders.
Here are some of the duties a business analyst would have:
Gaining a deep understanding of the business's workings and goals. A business analyst needs to know exactly what a business does and how it does it in order to get onto the path of improving the business.
Creating data-driven development. This means a business analyst will enforce change based on insights gleaned from a detailed business analysis that outlines the problems, opportunities, and solutions for business improvement.
Tracking and validating solutions through the help of user acceptance testing. This is done to ensure that the solutions are in line with the client's requirements.
This is an oversimplified description of the functions and responsibilities a business analyst would have. In reality, a business analyst's day-to-day would look different depending on the company, the industry, or even a specific product. Therefore, every company will have a unique set of requirements for hiring a business analyst. Click here to find out what those are for Redvike!
Becoming a great IT business analyst
We talked about the basic skills and competencies a business analyst should have, now let's talk about how to get there. What do you have to do to become a great business analyst?
Learn business analysis fundamentals
Very often, the people who go into business analysis have a Bachelor degree in Finance, Accounting, Business Administration, etc. However, in actuality, graduates from any field can go into Business Analysis, and it can even prove to be an advantage. For example, if you work as a Business Analyst at a software company, it would be immensely helpful if you had a degree in Software Engineering or other related fields which give you a good grasp of the technical side of the business.
That being said, no amount of technical knowledge can make up for the lack of business acumen and know-how of business-analysis-specific subject matter. Therefore, if you want to be a business analyst, you need to first get to know the basics. As we mentioned, every business analysis job is different, requiring a wide variety of different skills. In the software development business, some of them would be:
Business analysis tools like Microsoft Excel, Powerpoint, Visio, Project etc.
Visual modelling concepts and methods for graphic representation of systems in order to analyze, improve, and automate business processes.
Documentation and writing skills to create clear and concise documentation of functional requirements, business cases, wireframes, and more.
Elicitation techniques and skills for communicating project requirements to stakeholders.
Requirements specification process and prioritizing requirements.
Software Development Life Cycle knowledge
Knowledge and proficiency in agile project management
If some of the above-listed skills are missing from your resume, it is advisable to further your education, either through a Business Analytics Master's programme, online business analysis courses, or courses on specific subjects you might be lacking in (for example, insufficient Microsoft Excel proficiency). A business analysis course of study will cover a wide range of critical job functions, and ideally also provide some practical experience.
Learn data analysis
Data is the holy grail of business analytics. Although data analysis is not the only thing a business analyst does, it is certainly the key to effective and positive business development. The entire concept around business analysis rests on the ability to analyze data – so it is certainly an area that a business analyst should be proficient in. Data analysis is especially important in today's day and age – we collect so much information every single second, and without data analysis, it would be nigh on useless.
By using data analytics tools and methods it is possible to measure and assess metrics that indicate a business's operating costs, traffic, performance, sales, etc. Subsequently, a business analyst's job is interpreting those assessments and making recommendations for strategic development. While sometimes in-depth data analysis know-how may not be required if there is also a dedicated Data Analyst at the company, very often the business analyst will be the one doing their own data analysis. If you would also like to get more acquainted with Data Analysis, some of the things you would have to master are:
SQL and relational databases – to access, retrieve, manipulate, and analyze data. You would require a working knowledge of software like Microsoft SQL Server, MySQL database, Oracle DB, etc.
Programming languages – most often Python or similar. Programming skills are helpful for solving complex problems and performing faster data analysis.
Data visualization tools like Tableau, PowerBI, QlikView, etc. – to help create reports and dashboards, as well as forecast data and make crucial business decisions.
Master good communication practices
Every business analyst needs to have excellent communication skills: they need to be able to engage in open and clear communication with both clients and colleagues. We know that inadequate communication practices can significantly slow down or even impede a project, so business analysts absolutely must be good communicators in order to be able to understand what a client wants or needs or what a colleague could be trying to explain. Along those lines, – don't be afraid of asking questions! Even if you are intimidated by a superior or a client, never be afraid to ask for clarifications. A simple misunderstanding can create delays and costs to your project.
Significant points to also include here are good public speaking and presentation skills in order to convey the necessary information in an unambiguous and coherent way. While some people are born fearless public speakers and communicators, many are not as comfortable. Communicating on a daily basis is part of the job, as are a myriad of presentations for clients and colleagues alike, so you would have to work on improving those practices. If communication does not come easy to you, you will have to push yourself to get that valuable experience:
At university, don't shy away from projects which require you to present your findings in front of your whole class.
Join Toastmasters – a communication and public speaking club!
Practice active listening – yes, listening is just as important as speaking.
Don't avoid talking on the phone.
Work on projects and work-cases
A business analyst without experience is not really a business analyst. Only having an education isn't going to cut it. But no worries, there are many ways in which you can get relevant experience that will help hone your skills and land you the job you want! Some of the things you can do are:
University course projects and use-cases
Internship during/right after your studies
Internship/Part-time job with a startup
Business Analysis training programs
Ask to be included on relevant projects at the company you work at currently
Never stop learning
Even after landing your Business Analyst position, the learning shouldn't stop. You should always be thinking about how to improve what you are doing. After all, if you don't improve over time, how can your stakeholders expect you to improve their business in the long-term? So how can you "upgrade" yourself?
Read books on relevant topics
Take courses in the areas you may be lacking
Learn new tools
Educate yourself on new industry developments
Purspue a business analysis certification
Looking for a business analyst position?
Becoming a great business analyst takes years of hard work and a lot of determination and enthusiasm. If that's the career path that you want to take, then we've got an offer for you!
Redvike is a boutique software development company that specializes in web and mobile development for startups and enterprises. We are looking for a new Junior Business Analyst to support the process of collecting and verifying business requirements in close cooperation with our development team.
If you are someone who knows the basics of business analysis, is ambitious, and willing to learn new things – well then you're exactly the type of candidate we are looking for! Check out our Junior Business Analyst position to see if it is in line with your capabilities and your interests. We are looking forward to your application!
A business management system is a comprehensive set of tools and processes used to effectively manage all operational aspects of a business. This includes company employees, customer service, and all other entrepreneurial aspects. As a business grows, so does the necessity for a more efficient way of sharing information, handling day-to-day operations, and monitoring and improving business activities.
That is a very broad definition, right? In essence, every business chooses the parameters of their business management system – what it will entail and how it will function – based on their needs and plans. Of course, there are ready-made management systems that are sufficient and adequate for lots of businesses. However, they are limited in what they can offer – hence many businesses decide to move forward with a customized solution. To get a better idea of what all this actually means, let us explain with a real-world example!
Benefits of Business Management Systems
Before we present our use case, let's discuss why you would need a business management system and how they can be an asset. Quality and effective business management systems help a company become more organized, and thus more efficient at developing and executing business strategies – which in turn increase profitability and customer satisfaction. Some of the advantages of business management systems include:
Automation
Automation has been a gamechanger across all industries! Many processes which used to be performed manually are now automated – simplifying and optimizing many business facets. Work tasks get completed sooner, and employees are much happier and feel more accomplished while doing non-repetitive work. Automation has led companies to require less staff and hence significantly decrease their labour costs. Furthermore, automation reduces the risk of human mistakes which can become costly in the long run!
System integration
Your financial department is probably working with one software, your HR department with another, and your marketing department with a completely different one. Oftentimes departmental tasks can overlap, requiring employees to work with multiple pieces of software, or depend on receiving information from their colleagues in different departments. Time is wasted, and mistakes can easily be made. Not to mention that owning and maintaining several different software can get really expensive! A business management system can integrate some or even all of these business functions such that all employees have quick and easy access to the required information, and can finish their work much faster.
Increased Productivity and Efficiency
A business system is designed to give you effective, efficient, and repeatable results. Streamlined processes mean employees accomplish more in less time! Cross-functional teams can effectively work together on company-wide goals, thus increasing efficiency and intra-department cooperation, as well as faster achievement of top priority objectives. Increased productivity and efficiency will in turn, increase profitability, which leads to high motivation among employees. It's a win-win situation for all sides!
Accessibility
Online business management systems can be accessed from anywhere and at any time. Your employees can work from home if needed, which means you now have realistic access to the global talent pool. Your staff can now work in all time zones, increasing the customer outreach as well as improving customer support – which are all directly related to increased profitability. Furthermore, if you choose to (and if your business allows it), you can dispense with office space, saving you what is usually a hefty monthly expense!
Reduced costs
We've already mentioned how costs can be reduced by automating and integrating processes, but there's more! Besides reducing the need for office space, working on a digital platform can also help remove office supply and related costs altogether! For example, by creating and sending digital invoices, you can reduce costs surrounding printing and mailing said invoices. Furthermore, modern business management systems are robust and require less maintenance and repair time, making them cheaper in the long run.
Simplicity
A business management system can indeed be automated and integrate multiple structures, but if it's complicated to use then it won't matter. A complex system requires more training time, thus making it costlier in the very initial stages. The more complicated it is, the more difficult it is to perform even the most basic of tasks – thus wasting time, causing frustration with employees, managers, and even customers, and ultimately costing more money. A mindfully designed business management system will be simple to use -i.e. easy to navigate and takes the least amount of clicks to obtain the desired information. 
Chitown Trainer – In-Home Personal Training
Chitown Trainer is an online platform for personal trainers in Chicago, USA. They started out working as a team of around 20 trainers offering one-on-one and group training sessions in various luxury residential buildings. Wanting to scale the business, the company no longer wished to use their old SaaS provider which was outdated and did not have all the necessary capabilities. Instead, they required a tailor-made business management system solution – suitable for growing the business and increasing productivity. Chitown Trainer asked us to create an online fitness platform capable of handling company-wide processes which would also include scope for differentiation in the personal training market.
How did we do that?
How to create a business management system
1. What is the end goal?
As stated above, Chitown's goal was to scale, add different capabilities which would encompass all business activities, and create a niche in the market. While this may seem like a very obvious solution, deciding what a business should do in order to become more "successful" is never that transparent. Startup founders need to truly understand their organization's weak points and employ effective management strategies to handle them. If it is decided to change the infrastructure, as it is in this case, it would be prudent to involve all team members – those who actually do the work can more readily point out the problematic areas.
Finally, when the client sits down with our software development team, we will also have ideas and suggestions based on our previous expertise – which the client can then choose to accept. Effective communication between both parties here is crucial – confusion and misinterpretation will lead to mistakes down the line, compromising the success of the project itself. At the end of that discussion, a definitive set of goals is agreed on and our development team gets to work!
2. Identify and improve business activities
In this stage, our developers work together with the client to classify the different business categories such as Operations, Sales and Marketing, Finance, etc. The next step is breaking down the business activities into individual processes, as well as the tools, people, and strategies involved around them. The planning should also include the different types of documentation that will be needed and what are the processes which create them.
Once all the processes have been identified, our team works on identifying ways to improve the system. For example, if we want to make a process faster, we will consider different strategies such as removing unnecessary steps, people, or tools from the process, or automating whatever can be automated, etc. The team will also analyze if the process can be entirely replaced by a different, better performing one; if other tools would be more fitting for certain processes, etc.
3. Track and adjust business management system performance
At this stage, we usually make a test version to evaluate how the system works. To that end, we use Key Performance Indicators (KPIs) which quantify important aspects related to the success of the product. By measuring the KPIs before and after the new product launch, we gain concise information about the profitability of the product. Furthermore, we are able to precisely pinpoint the bottleneck and flawed processes in the system.
At this step, it can feel like the whole process has gone on for way too long, and the desire to finish it up will be strong. However, it's important not to rush the evaluation stage, because every seemingly small thing can become a larger issue over time. Once all the issues have been identified, we work on rectifying and improving the trouble areas. Trial and error is a part of this game but in the end, it will be well worth it!
The End Result
What did the end product for Chitown Trainer look like?
We developed a single customized online fitness platform used to operate the entire business. The new fitness app can be accessed on both web and mobile, and offers separate user-specific interfaces for clients, trainers, managers, and owners. On the user-centric part of the fitness app, customers can make purchases of training and/or meal plans, view and arrange their schedule, and receive in-app notifications among other things. The online fitness platform also covers business operations with features supporting staff management, payroll, payments and invoice processing, and task management.
As a result of implementing the new business management system:
The application for easy to use for employees and clients alike.
Client acquisition increased.
Company productivity improved.
Chitown Trainer has managed to increase its geographical scope.
The company and client have cut costs.
In the end, it's important to remember that creating a business management system is a never-ending process. The system requires regular reviews and revisions to make sure that it is working correctly. Furthermore, the scope or parameters of your business can evolve, also necessitating a modification of the system to conform to those changes.
What are you waiting for?
Do you feel like your business fits the criteria discussed in this article? We know it's hard as a business owner/manager to be sure of what has to change to improve the business. Contact us here at Redvike! We have experience in developing business management systems, apps, and other software units for businesses in various different industries. Let us help you, and together we can develop a solution tailored to your specific needs.
Chatbots are essentially programs used by businesses to interact with customers to solve their user issues. They do that by employing AI capable of simulating human conversation! Remember, AI doesn't need to sleep and doesn't get tired. So, companies can utilize chatbots to automate customer services, offer instant responses at any time, and do so consistently. Let's dive right in and get into more detail about the benefits as well as some examples of chatbot applications in business.
Chatbot business benefits
To know why chatbots are essential for business, we need to look at their inherent characteristics – how do their features make them significant? Therefore, by measuring the impact of chatbots on business KPIs, we can clearly see their advantages. Some of the benefits of chatbot applications in business are:
Instant replies
no matter how many customers, AI can handle all queries simultaneously with immediate responses, thereby improving customer engagement.
24/7/365 availability
users no longer need to wait for ages until they can reach an operator, but get answers at any time of the day, thus improving customer experience.
Multiple channel presence
chatbots can be implemented across various platforms so your business can interact with customers using different media channels, hence increasing the number of customers reached.
Cheaper than human customer service
while a chatbot can be an investment, it can easily do the work of dozens of employees without any training, thus saving both time and money.
Scalability of support
chatbots can easily handle large sudden increases in customer demands without affecting business costs.
Personalization
chatbots can analyze chat and order histories to offer users personalized recommendations, thus prompting better lead generation.
10 chatbot applications in business
Whether it is to help deal with growth, to cut costs, or as a sales/marketing strategy, more and more companies today are integrating chatbots. Open any website and you'll see one pop up. They're easy to implement and easy to use, so it's no wonder so many enterprises have adopted chatbots. Let's take a look at a few chatbot applications in business – specifically how chatbots can be used across different industries. 
1. E-commerce
Customer service is especially vital in the E-commerce sector. Simply offering a high-quality product isn't enough for a venture to succeed. Customers who are not satisfied with the support a company offers – likely won't come back. That means they also won't be recommending that company's product, or worst case – their negative reviews can actively deter potential customers from purchasing the product.
The simplest issues customers have are: not being able to reach anyone in customer support, or waiting too long for an answer. Chatbots take care of both of these issues with their fast response times at any hour of the day. They are usually equipped with the capability to answer the most frequently asked questions and can handle hundreds of simultaneous queries. Alternatively, they can assess if they are not able to help the customer, in which case a human agent is assigned to the problem.
Chatbots can also help develop marketing strategies for eCommerce businesses by:
conducting market research through chatbot surveys
making personalized recommendations based on conversations between the chatbot and the customer
offering discounts based on customer browsing and purchase history
collecting customer feedback in order to improve product/service quality.
2. Travel
Tourism and hospitality is another industry that is largely dependent on customer service quality. Therefore chatbots are very useful for assisting customers around the clock, even outside business hours. Even if the chatbot is not able to help out with a particular query, the customer can elect to be called back by an employee of the travel business, thereby drastically decreasing the loss of potential sales. Chatbots can be used to ask about travel deals, advice on where to go or what to see, and even book travel and accommodation!
3. Human Resources
Working in Human Resources is no joke – they have a bunch of difficult and time-consuming duties and responsibilities including: recruitment, onboarding and training, audits, legal issues, conflict resolution, payroll processing, and many more. The developments in software and AI have given rise to many solutions for automating HR tasks, and the chatbot has also found its purpose. A large chunk of HR's time is occupied with answering general employee and job applicants' questions, which can easily be handled by a chatbot – thus freeing up HR employees for more important and meaningful work. Chatbots can handle queries regarding: job openings and descriptions, vacation days and sick leave, training materials, job contracts, etc.
4. Healthcare
Doctors and nurses are not spared the administrative side of their job, and naturally, it takes up a non-insignificant portion of their time. Chatbots can handle appointment scheduling, collecting patient medical history, and internal coordination with other doctors/departments – all based on a single record system. Outside of the medical practice, patients can use the chatbot to receive reminders for their medication and monitor their overall health status.
5. B2B transactions
The B2B industry is double the size of the B2C industry, meaning the cost of a lost lead/sale for B2B businesses is much higher than their B2C counterparts. Customers look for a high degree of professionalism and service, so slow replies and a dearth of information can easily force them to look elsewhere. Chatbots can reply to customer queries instantly and give and collect some initial information. This way the sales team can look through the inquiries and choose to address the most qualified leads.
6. Finance Industry
In the current digital age barely anyone actually goes to the bank, and no one really even needs to. While banks and other financial institutions have been online for a while now, recently we've been seeing more and more applications of chatbots in financial businesses. Chatbots in banking can be seen as a one-stop destination for all customer needs like:
Information about their bank balances, transaction history, due payments, etc.
Money transfers
Investment management
Credit applications
7. Real Estate
Real estate is not a petty cash business, and every closed deal is important. Customers visiting property websites can easily get lost in the volume of listings without actually finding what they need, leading to lost sales for the agents and frustration for the inquirer. Chatbots can help potential customers with filtering properties based on their requirements, for giving out information about the neighborhoods, scheduling appointments with the agents, etc. That way, the agents will also have an initial idea of what the clients are looking for and are able to assist them more efficiently.
8. Entertainment and News
A strong business case can also be made for chatbots in entertainment and news. For one, they can be used to deliver new content. For example, many news media have chatbots on their messenger pages, allowing users to access information without the need to go to all their individual websites. Some chatbots also have the ability to offer personalized content by mobilising AI to analyze readers' interests based on past requests. Another example of chatbots in entertainment are chatbot games!
9. Logistics
Communication in the transport and logistics industry is a problem, and is causing serious trust issues with customers. We've even come to expect bad customer service from logistics providers. But chatbots can help:
Provide quick answers as opposed to days of waiting time
Receive delivery requests, so there is no need to wait for an agent to get back to you.
Tracking shipments, so no need to look for dedicated tracking services on the website.
Facilitate quick changes in delivery information.
10. Edtech
AI has transformed the realm of Edtech, and one of the many different technologies used in the industry are – you guessed it – chatbots! They can be used for a variety of situations:
Collecting and processing applications
Providing answers to most frequently asked questions for both students and teachers
As an information board for notifying students of schedule changes, extra-curricular activities, timetables, and other announcements
Access to study guides, ebooks, and other learning materials
The global education technology market was valued at a whopping USD 89.49 billion in 2020! It is predicted to grow at an annual rate of almost 20% from 2021 to 2028! We can expect more advanced technologies, more edtech companies, and apps, as well as more widespread use of digital learning platforms all around the world. The ideas are there, the investors are there, and the audience is waiting. The time to get into Edtech is now!
Perhaps you already have a great idea and are looking to develop it, but it just seems too daunting and undoable. You may think that the competition is just too large and you won't get noticed, or that you don't have anything new to bring to the table. In fact, it's quite the opposite. The edtech market is not even close to being saturated, and there are plenty of opportunities to be explored. So if you've decided to put your doubts aside for a while and are looking for the answer to – "How to start an Edtech startup?" – then keep on reading!
How to start an Edtech startup?
Before starting any sort of development, you need to be absolutely clear on the purpose of your idea – i.e. what problem does it solve? I know this might seem like a redundant question – of course you know the purpose of your idea! But it's really not so simple. Your solution will determine your niche, which will in turn help determine your entire edtech startup business model. The development process can only start once the purpose has been unambiguously detailed. So, what can you do that can help you better establish your niche?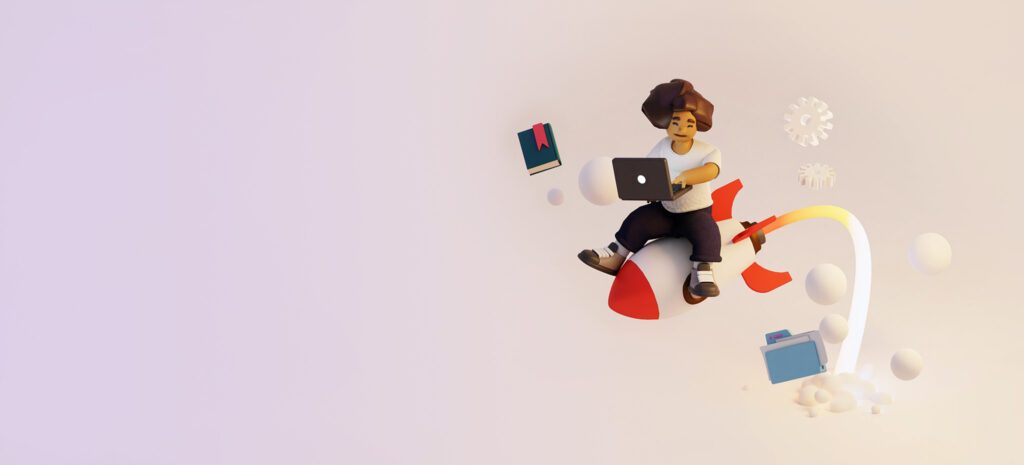 Market Research
Market research is incredibly important, especially for a startup. First of all, you need to know what the market has to offer, what kind of products exist, and which are popular. Doing this you can find out if you have a potential audience. Next, you need to check out your direct and indirect competitors. This will help find a way to stand out from your competition, or improve features users feel are lacking in existing products. Finally, all this information gathered from the market research will aid you in determining your own marketing strategy!
Define the roles in your startup
The next important step is building your team. Who will be your co-founders and what will their roles be? What will your role be as founder? If you have a small team, you and your team members will probably be taking on multiple roles and responsibilities. Therefore, it's important that everyone knows what they are supposed to do and do it well. Otherwise, inefficiency will cause delays and mistakes which can spell disaster for your product. It's also important to decide who will actually be doing the product development – an in-house development team, or will you outsource to a dedicated software house?
Edtech Startup Funding
Probably the most challenging topic for any edtech startup – how to get funding?
Bootstrapping
Bootstrapping your startup means funding your business with little to no outside funding. This means relying on your own savings and business-generated cash flow. It's a risky, but doable option. By using your own money, you remain the sole business owner and are free to choose the direction of your company. Things will get tricky though if funding runs out, or there is not enough capital for growing and scaling the company.
Financial Loans
Most banks will loan you the money you need for your startup. The good thing is – the bank doesn't have any say in your business, and paying monthly installments is pretty straightforward. The bad thing is that you are obligated to pay back that money regardless of the success or failure of your company and be prepared to deal with the consequences in case of a default.
Grants and sponsorships
Many government and educational institutions, as well as private companies, offer edtech startup grants – either as one-time payments or monthly installments. These are great options because startups are generally not required to pay that money back. They do, however, need to fulfill certain prerequisites and requirements in order to get the money or meet certain deadlines in order to continue receiving funding.
Investors
Investors are usually experienced business experts who provide funding in exchange for a percentage in your company. While that means relinquishing some creative control and ownership of your business, investors bring with them priceless qualities like mentorship and business contacts.
Crowdfunding
Crowdfunding has become more popular than investments in the last few years, and it's easy to see why. It means gathering small amounts of money from a large number of people in exchange for a gift or non-monetary premium once the product is launched. While you will need to have some sort of marketing plan already in operation to get people acquainted and interested in your idea, it can bring in a large sum within a month!
MVP Beta testing
Launching an MVP lets you test your idea while investing a much smaller amount of money than that needed to develop the full product. By having real users test your product you will get invaluable feedback regarding features, likes and dislikes, and potential bugs in the system. It's worth noting here that many successful (edtech) startups have outsourced their MVP development. While it may seem counterintuitive, it's actually a cheaper option than doing it in-house, and you will have access to experts in the field of edtech software development.
Marketing plan
Marketing should be a part of your investment plan – no ifs, and, or buts. It shouldn't be something you do as an afterthought, or just for name's sake. A well thought out marketing strategy is absolutely crucial for the success of your edtech product. You can create a great product, but if it doesn't attract and retain an audience, then ultimately it will be counted as a failure.
Mistakes to avoid
While elearning is becoming more relevant and the edtech market is crazy competitive, this just means that there are many more challenges. Some of the most common reasons for failed edtech startups are:
Fundamental incomprehension of the educational system
Complicated or ineffective edtech product
Lack of market research
Lack of monetization
Not measuring KPIs
Poorly chosen team members
If you'd like to read more about the challenges of edtech development today, read our blog post on the topic. If you are still unsure where to start and you need professional consultation for starting your edtech startup, don't hesitate to contact us here at Redvike.
We often participate in a discussion with clients who have a very specific vision of how their final product should look like. While it's good to know your expectations and be able to present them, it's sometimes very difficult to connect business needs with IT capabilities. Many think that when it comes to technology only the sky is the limit, but certain ideas of how things will work in a product in connection with the required timeframe and the initial budget – are just impossible.

The reason why we create this article is to spread awareness of how important it is to analyze the idea before entering the app development phase. We, of course, are always ready to help you verify your product strategy while supporting your growth from the technical side.

How to connect business needs with IT 
In other words, how to reconcile your vision with the real technical possibilities.
Start with a solid business analysis
From the developer's point of view, solid business analysis is key. Developers will be responsible for coding the mechanism so they need to have an in-depth understanding of the idea behind it. During the discussion, they can notice when a given functionality is problematic or would take more time to be implemented. They can also suggest a better solution to implement a given feature.

We do exploratory meetings, the discovery phase, and many other funny-named stages before the actual product development starts. Why so? To collect as much valuable and relevant to our team information about the product. It is at this stage that we are able to correctly identify the goals of the project and notice some inconsistencies – if there are any.

As soon as we identify every potential risk and match the level of complexity to the real time of development, the better for the project.

Next focus on UX & prototyping
Even a bold idea gets quickly verified when put in the UX analysis. It's because, at the end of the day, it's the users who will buy and use a product, not a client. That's why when business needs and client desires are met but the level of user experience is neglected, the final result will only satisfy the client. UX analysis is to get to know users' needs regarding the product.

Creating product prototypes (MVPs) is what saves most of the good business ideas. Yes, that's right – saves. Because one may have a brilliant idea for a business and at the same time have no idea how to effectively convert it into a product. By prioritizing features to build the first version of an app, a client may see how it works in real life and improve it before the official release.
Get to know your target audience
We've mentioned it previously but it's really important to understand who's going to use the app afterward. To whom are those fancy features designed and are they really that necessary for the project to be completed? Everything you put into the product should be there for a purpose. And every purpose should be validated and measured through building MVPs and performing UX analysis.

It is the simplest method to connect business needs with IT capabilities. Focus on whether the feature you want to implement is necessary for the user or rather it is for you to be happy.

Just to make it clear
It doesn't mean a client can't have its own plan for a product from A to Z. We just want to show you that certain ideas for product functionalities need to be discussed early on. The business analysis is to discuss the project before we enter into the app development phase. Everything that we are able to spot right away is what reduces the final costs of a project. On the other hand, if a client is aware that a given feature takes time to be implemented and still is confident about his choice then let's do it!

Can't be done without a good level of communication
Lastly, communication. Here we suggest you read about our best communication practices that lead any IT project to success. Being transparent and listening to each other is what builds a bridge between a client and the development team. The atmosphere allows for free discussions about the aim of the product and sharing different perspectives about potential improvements.

Having said that, the last thing that will help you connect your product vision with the real technical possibilities is the ability to express your needs but being open to someone's ideas.
Through years of delivering innovation in the IT industry, we've created our own culture of working with clients. We believe good communication practices are key to successful project development and increase the chances of a longer tech partnership. Fingers crossed that our guide will spare you the unnecessary costs and stress peaking near the project deadline.

If you're interested in our experience go ahead and read: How we deliver software projects in Redvike.

Why business communication is important 
Why you should take care of the communication with clients.

Communication is to help identify the potential of the product in terms of size and in which direction it can be developed. For instance, should we start with a web application, native or hybrid? How the product can be further scaled? Only through active listening and meetings with a client, you can understand the client's product vision. It feels like an obvious thing but very often turns out it could've been done better.

By maintaining the contact you increase the chances of a longer collaboration which is a valuable experience for any type of business. Also, the way you communicate with your partners says a lot about your company – it's your business card.

Don't build walls, build bridges
Take care of transparency. It really cuts the unnecessary distance between a client and the project team.

If a client doesn't have contact with developers – who build the actual product! – he is kind of separated from the process and any obstacles on the way. This creates a false perception of the project status. At the same time, the developers don't get the real picture of the situation. But if we successively connect both parties, we see that the whole development team is getting more understanding of the project. People are more aware of the possible worries the client may have. Also, everyone considers the problems the team is faced with.

It's important that each person involved in the project can share their own knowledge, experience, and talk to everyone on a daily basis.

Daily communication with clients will save unnecessary stress (and costs!)
If you think meeting once a week will do the job, you're wrong.

Once a week you can meet with your best friends, not with your client who invests his money and time into your tech expertise. You have to care about this relationship through daily meetings and progress summaries. And it doesn't have to be 2 hours long talk. The best way is to work in short feedback loops. This way you keep your client always updated about the current status and the stage developers are in. If your partner understands what's going on with his product and what phase it is – you both have nothing to worry about. It is much better than goal-based communication where you only hear each other when you hand over the project.

Also, consider the fact that good communication practices will accelerate your project delivery. If you communicate effectively, the work goes smoothly and things are finished much quicker. This is how you keep your clients satisfied as they don't overpay on product development.

Summing up,
The secret sauce to a successful partnership is communication. Not the one based on the obligation but understanding and willingness to help. If you show people you want to understand their point of view to provide them more information, it always turns into trustworthy and respectful contact. After all, we all want to finish the project without delays. Good communication practices help us build long-term cooperation with the client and increase the likelihood of staying in touch in case of the next brilliant idea.